Dominican priories: Zwolle, The Netherlands
The Dominicans arrived in Zwolle in 1465 as part of the newly established 'Congregatio Hollandiae' (1464-1517). The 'Congregatio Hollandiae' was a reform movement, started in 1515 at the priory of Rotterdam, aiming at a more strict observance. One can imagine how the arrival of the brethren must have struck a chord with the already large presence of communities of another reform movement in Zwolle: the Devotio Moderna. The first priory church was built between 1466 and 1480.
The priory was closed and the friars kindly but firmly sent away in 1580 during the Reformation. From 1640 until 1982, with a brief Dominican interlude between 1673-1674, the old priory church was whitewashed and used by a community of the Nederlands Hervormde Kerk (now part of the Protestant Church in the Netherlands). During a more recent restoration, medieval Dominican-themed paintings in the vaulting were discovered and lovingly restored.
Today, the church contains an award-winning bookshop and is open to the general public. The former library of the medieval priory is now a 3-star Michelin restaurant.
Between 1900 and 1902, the Dutch Dominicans, at that time called the Province of Germania Inferior, built a new priory in Zwolle on the fringes of the old town. The house was designed by architect J. Kayser in the neo-gothic style. He was advised by father Raymundus Boilley OP of the Belgian Province. The design took its lead from the old Dominican priory at Dusseldorf (1888-1895). The patron saint of both the church and the priory is Saint Thomas Aquinas, who had also been the patron saint of the medieval priory in Zwolle.
The new priory functioned as the Philosophicum of the Province and in its hey-day it housed more than 80 friars. In January 1933 disaster struck as a fire broke out in the priory, destroying the upper floors. These were quickly restored and 10 months later the friars returned to the priory.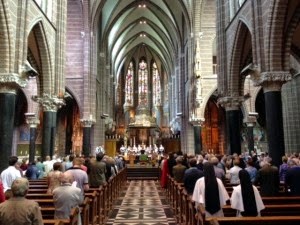 The interior of the priory church
In 1966 the Philosophicum closed and for a while the future of the Dominican community at Zwolle remained unclear. However, in 1977 the Dutch province decided the revitalise the community. Added to the life of the community were new projects, including a centre for spirituality (Thomashuis) and a project for students living in one of the (separate) corridors of the priory, who are invited to take part in some aspects of the communal life ('Spotters'). The students share the first floor with the current Dominican community and some parish-offices. In order to help maintain both the church and the priory, a conference centre was established using the extensive facilities on the ground floor of the complex.
At this moment in time plans are being discussed for the future of the priory and church.