Gospel Joy: Avoiding Spiritual Worldliness
Saint James the Just
Spiritual worldliness is defined in the exhortation Evangelii Gaudium as "seeking not the Lord's glory but human glory and personal well-being." A fair definition, acting in some sense as a summary of the Epistle of St. James. There the 'brother of the Lord' says, 'Religion that is pure and undefiled before God and the Father is this: to visit orphans and widows in their affliction, and to keep oneself unstained from the world' (James 1:27). 

One of the most effective means of avoiding spiritual worldliness is to put into action the precepts given by Christ, summed up in command to love your neighbour as yourself.
However, it would be simplistic to think that merely by doing acts of charity towards the poor one is left unstained by the world. St Mark records the story of Our Lord watching many rich men making vast contributions to the Temple Treasury, before witnessing an elderly widow offer in two copper coins. It was this widow, said Jesus, who had put in most, for she had contributed everything she had. But contributed to whom? According to the "reality" of the world no one benefited from the widow's well-
intentioned
 but insignificant gesture.
Jesus's concern was not so much whether or not the donation had any great material effect. Rather, He saw the manifestation of Divine Love in the woman. Genuine charity is a spiritual act; a manifestation of Divine Love, which is always given in abundance.
The Widow's Coin
The true remedy St James offers for spiritual worldliness is found in his exposure of the world for what it truly is. 'The world, and its riches, are like flowers and grass, they bloom but then fade away' (James 1:9-11). A man is like 'a mist that appears for a little time and then vanishes' (James 4:14). By the nature of things Christians are to be, in some sense, other-worldly. Their orientation is not to this world, which passes away, but to the world to come.
An excessive attachment to the world and its goods is an impediment to man's relationship with God and his fellow man. Of course, the fruits of the earth are good things in themselves and indeed can be taken as manifestation of God's grace, as in the case of the righteous man Job, who was certainly blessed in the eyes of the world. However, when Job was put to the test and his prosperity removed, how did he react?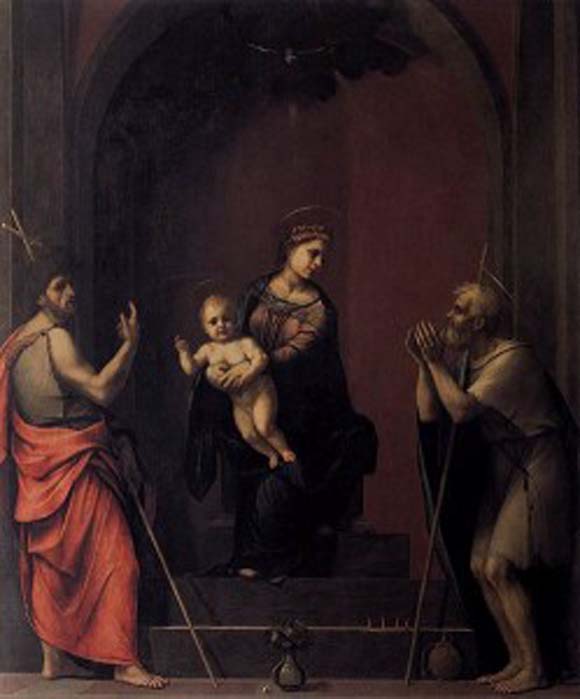 Job before the Virgin and Child
Certainly Job felt deep sorrow, but not for the loss of his material goods. On hearing of the destruction of his livestock he praised God saying 'naked I came from my mother's womb and naked I shall return' (Job 1:21). Rather, Job's pain was caused by what he took his affliction to mean; that he had lost God's loving favour. Though in fact, his tribulation was a manifestation of the greatest favour. By enduring his undeserved suffering with faith, Job foreshadowed the Passion of Our Lord. By being stripped of worldly goods and honour he became another Christ. So blessed was he that he was given foresight to see 'that my redeemer lives, and that He shall stand at the latter day upon the earth'(Job 19:25).  In his worldly poverty, Job saw 'what prophets and kings longed to see' (Luke 10:24).
St. Francis de Sales teaches that Christians should possess in their heart 'both riches and poverty, a great care and a great contempt for temporal things.

' There is certainly a tension in the Christian's vocation and if it is not properly balanced he can fall into the trap of spiritual worldliness, either through a lack of concern for their fellow man or through excessive care for material things. Fortunately however, Christians can look to the Widow or Job, or indeed St. James as they seek to meet the various trials of their earthly life.