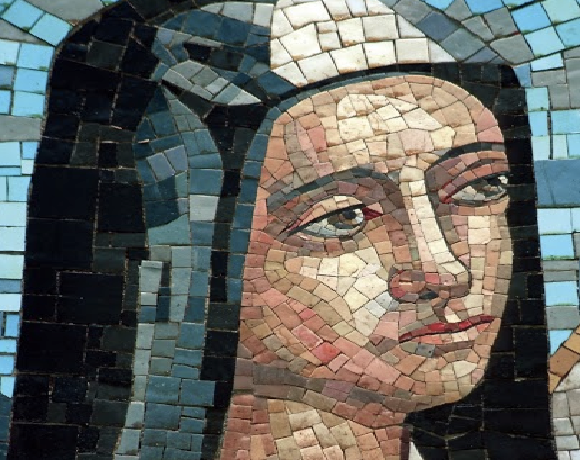 Great Dominicans: St Agnes of Montepulciano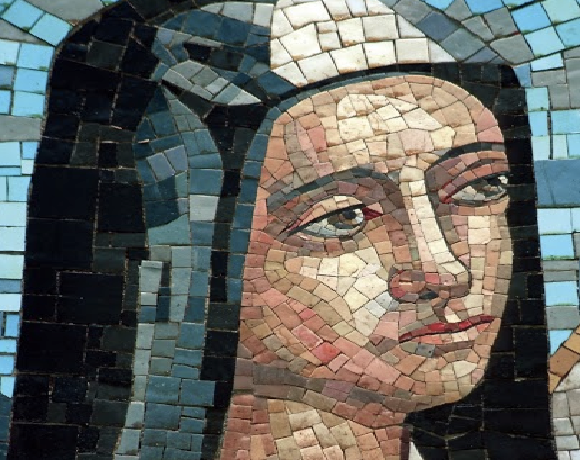 If you like Dominicans and good red wines then there are two very good reasons to visit Montepulciano. Situated on a hilltop in the Italian province of Siena, in southern Tuscany, Montepulciano is famous throughout Italy and beyond for its superb red wine, not to be confused with the inferior wine, Montepulciano d'Abruzzo, which is produced from the Montepulciano grape, but which grape, confusingly, has no links with the town other than a shared name.
Just as the small town of Montepulciano punches above its weight in its wine production, so too has this town born great fruit for the Church. St Robert Bellarmine was born here, as was Pope Marcellus II. Most notably for Dominicans, though, it was in a small village near Montepulciano that St Agnes was born in 1268, and it was here that some years later she would go on to found a Dominican convent.
Agnes was born into the noble De Segni family and was as extraordinary in childhood as she would be throughout her life. At the age of six, much to her parents' consternation, she pleaded to be allowed to enter a convent. Understandably her parents refused to accede to her pleadings, at which point she begged them to move into Montepulciano itself; so that she could at least visit a convent every day. Due to security concerns and an unwillingness to leave their safe village, once more, Agnes was refused, but her father did allow her occasionally to make visits to her favourite convent.
 There is a legend that, accompanied by her mother on one such visit, in a scene reminiscent of Hitchcock, she was attacked by a murder of crows, as they passed a house of ill-repute. Some would later understand this event in terms of the crows being possessed by devils, seeking to drive the pure, young Agnes away from this site, where she would later found her own convent.
At the age of nine, she convinced her parents to allow her to enter a Franciscan convent of women in the city who were known as the "Sisters of the Sack", after the rough religious habit they wore. To enter at such a young age required a papal indult, and it was not the only one this extraordinary saint would receive. The nuns lived a simple, contemplative life and for five years she is reported to have enjoyed a life of complete peace, until at the tender age of fourteen the office of bursar was foisted upon her.
Sometime after this, Agnes was called upon to leave Montepulciano to help in the foundation of a new convent of the Franciscans in Proceno. Once more a papal indult was required, but this time not to satisfy what Agnes willed, but because contrary to her desires, at the tender age of fifteen, much younger than normally permitted, she was appointed Abbess to this new community.
For twenty years she served faithfully as Abbess at Proceno and during this time she gained a reputation for performing miracles: people suffering from mental and physical ailments were cured by her intercessory prayer, and there were also miracles of multiplication when food supplies were low and the nuns had no means of buying more.
Throughout her life she was privileged by profound experiences in contemplative prayer. Amongst the visions she was granted, two, in particular, stand out.  In one the Blessed Virgin handed her the infant Jesus to hold and on refusing to hand him back(!), she awoke to find herself clasping a gold cross which the infant had been wearing around His neck. In the other, the Blessed Virgin handed her three stones, representing the Trinity, with which she was to establish her own convent.
She was content in Proceno, and after being called back to Montepulciano for a short visit had just settled down, with the hope that she had made her last move and could now stay where she was, when obedience again called her back to Montepulciano this time to build a new convent. A vision in prayer had told her that she was to leave the Franciscans, among whom she had been very happy, and that she was to found a new convent of Dominican nuns.
Thus in 1306, Agnes returned to Montepulciano to put the Lord's request into action. All she had for the building of the convent were the three little stones given her by the Blessed Virgin, and Agnes, who had been bursar, knowing something about money, realised that she was going to have to rely heavily on the support of heaven in her building project. After a long quarrel with the inhabitants of the hilltop she wanted for her foundation, the land was finally secured, and the Servite prior laid the first stone, leaving her to worry about where the rest of the stones were coming from. Agnes took personal responsibility for the entire project and guided it safely to completion. The church and convent of Santa Maria Novella were ready for dedication in record time, and a growing collection of aspirants pleaded with her to admit them to the new convent.
She explained that the rule was to be Dominican, not Franciscan as might have been expected. All the necessary arrangements were made, and the new community settled down and quickly gained a reputation as a dynamo of prayer and penance.
Despite her expressed desire for stability and reluctance to travel, she did, however, wish to see the holy sites of Rome and made a pilgrimage there, expressing great satisfaction at having seen the shrines of the martyrs.
At the age of forty-nine, her health began to decline rapidly. A visit to the baths at Chianciano failed in its desired effect, but nonetheless, she performed a miracle on a small child who had drowned. She died on her return to Montepulciano in April, 1317. The establishment of the cult of her sanctity was immediate and her tomb soon became a place of pilgrimage. Amongst those who would visit to venerate her incorrupt body was another Dominican saint, St Catherine of Siena.
St Agnes was officially canonized by the Church in 1796 and her feast is commemorated on the 20 April.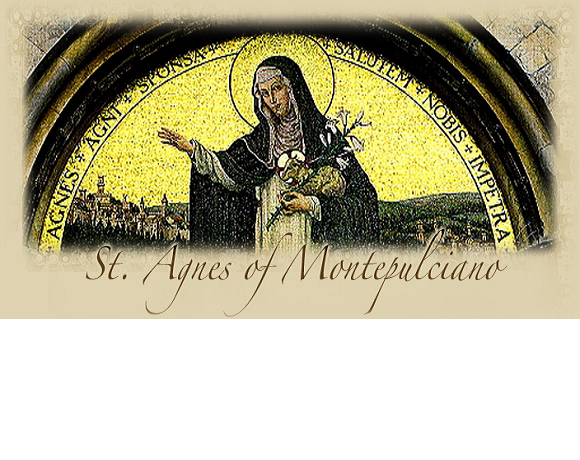 Merciful God, you adorned Agnes of Montepulciano, your bride, with a marvellous fervour in prayer. By imitating her example, may we always hold fast to you in spirit and so come to enjoy the abundant fruits of holiness. St. Agnes never faltered in her deep devotion and love for You. Dear Father, may we also appreciate the spiritual things more than the things of this world and give to You our greatest devotion. In Christ's name we pray.
Amen.