Madrid: Vigil and Mass with the Pope
On Saturday we packed up what we would need for the Vigil and Mass at Cuatro Vientos Aerodrome. Brother Lawrence had thankfully arranged that we could stay at a Dominican convent to avoid the afternoon sun. After lunch, siesta and Mass with the Filipino Dominican group with whom we had shared
Atocha
, we set out for the aerodrome. As we approached the area we were held up by police, who had closed the road. This turned out to be quite a good turn of luck as we were able to see the Popemobile drive past at close range. (One of our pilgrims caught it on his phone camera. it is available on his blog
here
).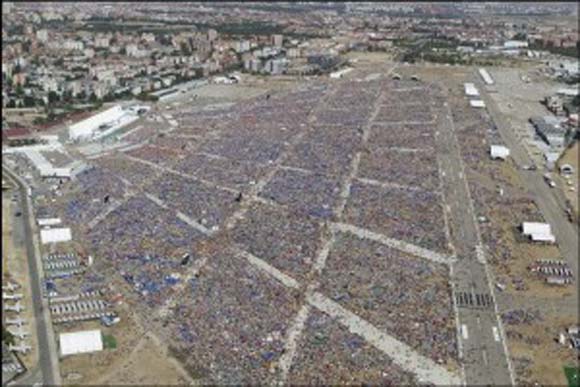 The apporach to the site did not, however, really lift our spirits. We were not able to enter our assigned area due to over booking and above the aerodrome hung black and angry looking clouds. As we found a good spot, slivers of lightning cut the evening sky at an ever more regular rate. Despite the impending weather the Pope was greeted with gusto and sheer joy. As he began his address the rain started to fall but this became intolerable as the winds picked up. The 'huracán' (as the official announcement described it) became too much and many of the pilgrims sought refuge in one of the Eucharistic adoration tents. Our tent proved very sturdy but sadly at least two tents were decimated by the high winds. The Holy Father's address was interrupted. He left telling the pilgrims in Spanish:
Thank you for your joy and your resistance. Your strength is stronger than the rain. Thank you. The Lord is sending us his blessings with the rain. With this, you are living by example.
After a short time the storm passed and the Pope returned to finish his address and expose the Blessed Sacrament. One could not help see some symbolism in this. From frantic irritations suddenly there was peace and silence and over a million people focused on the living Lord.
After the Pope left an eruption of man-made fireworks filled the sky, after which people had the opportunity to visit some of the remaining Exposition tents for confession and rosary. Despite the conditions spirits were high throughout the night and the sounds of laughter, singing and even bongos were a constant hum.
Most of the people in our group were awakened in the morning by a loud announcement looking for an 83-year old Polish woman (who was thankfully found). There was a sense of anticipation and excitement as the Community of St. John led Lauds with a beautiful musical setting. The arrival of His Majesty King Juan-Carlos and Queen Sofia made it clear the Mass was about to start.
The Mass itself was wonderful. It is astounding that such a large and excitable crowd could behave so reverently, prayerfully and yet still joyfully. In his homily (full text
here
), Pope Benedict pointed out that the example of Peter's confession shows us that knowing God in not an impersonal relation but a truly personal one built on firm faith and living friendship.