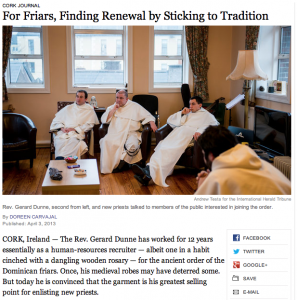 The New York Times notices Dominican growth
A few days ago, the front page of the International Herald Tribune (owned by the New York Times) carried an article about the recent 
growth in Dominican vocations
.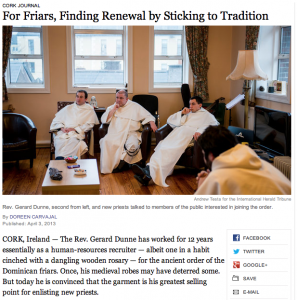 The spectacular increase in young vocations in
Ireland
and the northeastern USA (
Province of St Joseph
), seen as an 'improbable revival', is largely explained in the article by the return to the 'fundamentals' of the Dominican tradition.
The journalist naturally focuses on the most visual aspect – our
Dominican habit
– since that has an immediate purchase on the imagination of wider society. But this should not eclipse the concrete aspects of our traditional religious life, of which the habit is but the outward sign and symbol. That's why the article rightly refers to 'the spiritual benefits of shared prayer and a communal lifestyle'; as well as the Dominican presence on the blogosphere! 
Though we Dominicans are all very different as individuals, we obviously have a lot in common, too. We might express it in different ways, but we all share an attraction to the Dominican Order and its mission to give authentic witness to Jesus Christ. Our religious life is built upon four traditional pillars – namely, prayer, study, community and mission – as expressed in our vocations video of 2011.
Our 
English Province
has also seen considerable numbers of men entering in recent years, representing steady growth and a lowering of the average age. Roughly one eighth of the brethren are in initial formation, including four novices.
We pray that God will continue to call men and women to share in the Dominican way of life, to join our mission to bring the Gospel to those who need to hear it, and those who need to hear it again…