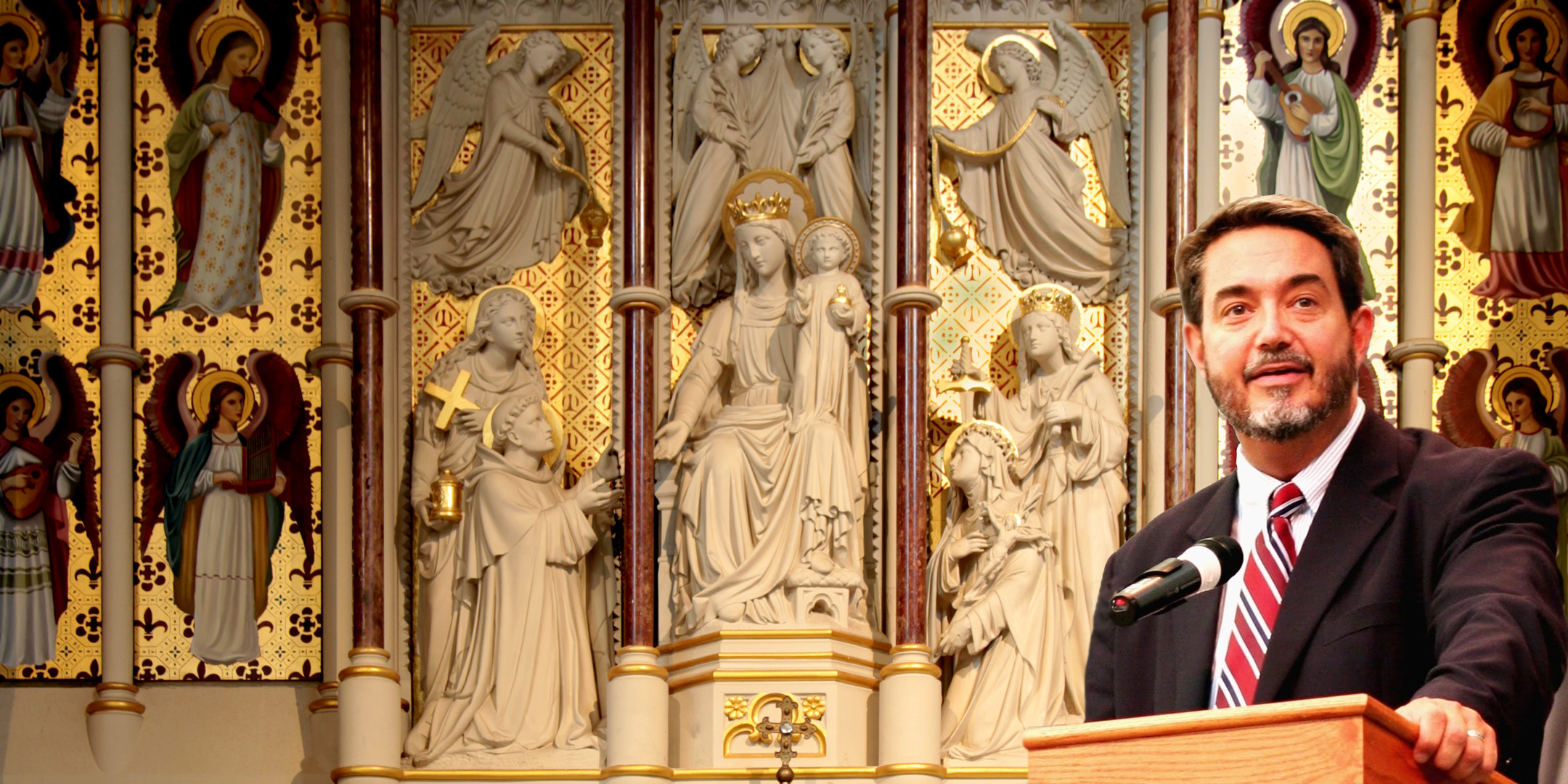 Rosary Shrine – A Packed Events Programme for 2017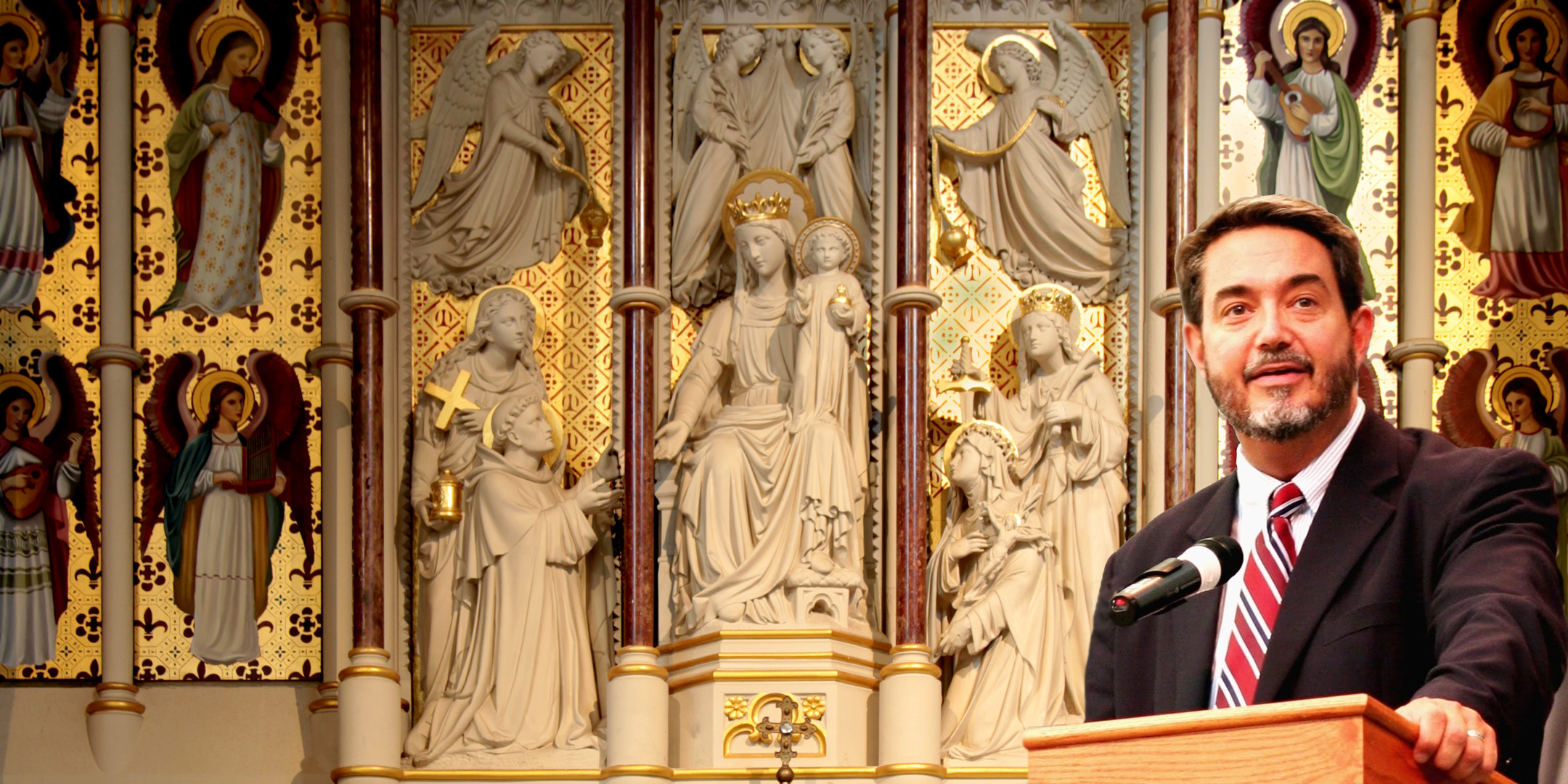 The newly consecrated Shrine of the Holy Rosary at St Dominic's Church in north London has launched straight into a varied programme of events for 2017, including a major concert and a top international speaker. 
The Inaugural Rosary Shrine Lecture
Dr Scott Hahn
Dr Scott Hahn (main image above) is a renowned Catholic speaker and writer. As converts from Protestant Christianity, Dr Hahn and his wife Kimberly found their way to the Catholic faith through study of the Scriptures and the Church Fathers, as described in his best-selling book, Rome Sweet Home. 
Dr Hahn holds the Father Michael Scanlan Chair of Biblical Theology and the New Evangelization at the Franciscan University of Steubenville (Ohio, USA). He has written extensively on the scriptural foundations of Catholic theology, as well as working to advance the new evangelization called for by Pope St John Paul II.
Saturday, 21 October, 7.30pm. £5. (In the church). Early booking recommended due to high demand. Book online now.
Concert
Monteverdi's 1610 Vespers of the Blessed Virgin Mary
Experience the brilliance, beauty and power of the Italian Baroque. The world-famous Vespers of the Blessed Virgin Mary by the Italian composer Claudio Monteverdi (1567-1643)  will be the first major benefit concert to be held in this church since its consecration as the Shrine of the Holy Rosary. The performance will feature accomplished singers and musicians, with authentic period instruments, under the direction of Andrew Knowles, Director of Music at the Oxford Oratory.
With Camerata of Curiosities and His Majesty's Sagbutts and Cornetts. 
Bank Holiday Monday, 1 May, 7.30pm. Tickets £25 / £15 (Book online now).
Conference
One-Day Conference on Aquinas and the Rosary
'He Gives Himself as Friend and Food, Ransom and Reward'. 
Introduced and chaired by Fr Richard Conrad OP, Director of the Aquinas Institute at Blackfriars, Oxford
Speakers:
Fr Bernhard Blankenhorn OP  

'"He dwelt among us, full of grace and truth": Christ's graced humanity as "channel" of grace and exemplar'

Sr Ann Catherine Swailes OP  

'"Et in mundo conversatus, sparso verbi semine": Christ's ministry and the lessons of his lifestyle'

Fr Simon Gaine OP  

'"Christ was handed over to death on account of our sins, and rose for the sake of our justification": the ways in which Christ's death and resurrection save us'

Fr Vivian Boland OP  

'Pentecost Prolonged: St Thomas breaking new ground in his theology of the Seven Gifts'
For questions or to register, please contact: rosaryshrine@haverstockhill.org.uk
Saturday, 25 March, 11am – 4pm. £15 inc lunch. (Parish Hall). 
Book launch and talk 
'O My Jesus': the Meaning of the Fatima Prayer. Dr Stephen Bullivant.
The so-called Fatima prayer, O my Jesus, surely ranks among the Church's most popular prayers. In the space of just twenty-nine words, it broaches some of the great themes of Christianity: sin, forgiveness, mercy, heaven, hell. Stephen Bullivant offers here reflections on this prayer, resulting in a work of popular theology and spiritual writing. 
Stephen Bullivant is Professor of Theology and the Sociology of Religion in the School of Education, Theology, and Leadership at Saint Mary's University, Twickenham. He is the author of Faith and Unbelief, Trinity: How Not to be a Heretic, and Theology and Power. 
Light refreshments will be served. 
Tuesday, 9 May, 7.30pm. (Parish Hall).
Series of Talks
Illustrated Talks on the Rosary Mysteries
10 January, 1 February, 21 March, 25 April. 7.30pm  (Parish Hall)
Lent Talks on the Sorrowful Mysteries
7, 14, 28 March, 4 April. 7.30pm  (Parish Hall)
---
Venue Information
Church of Our Lady of the Rosary and St Dominic, Southampton Road, London NW5 4LB. 
Nearest tube: Chalk Farm / Belsize Park. 
The entrance to the parish hall, known as 'Blackfriars Hall', is located next to the priory, slightly further down Southampton Road.