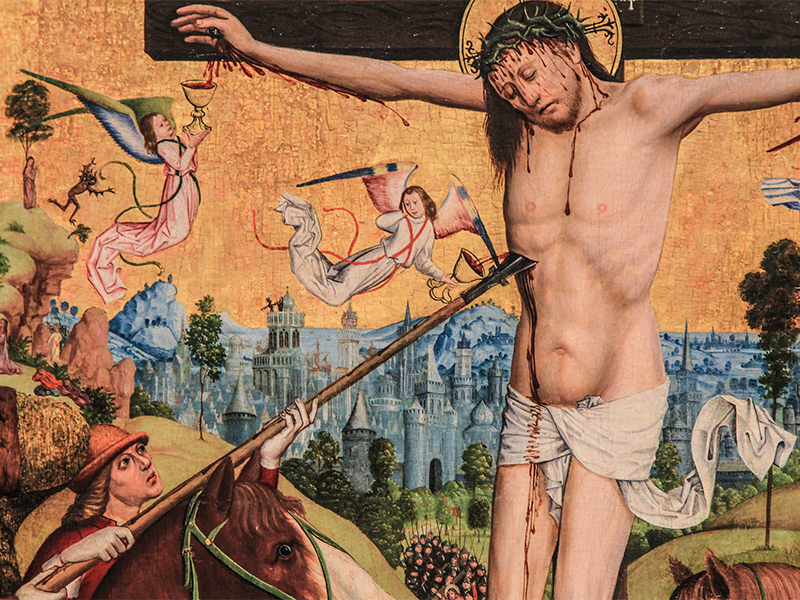 The Scandal of the Mass
Twentieth Sunday of Ordinary Time (B)  |  Fr Robert Eccles considers the shocking language and imagery of the Eucharist, and explains the wisdom of God that is thus revealed in the Mass.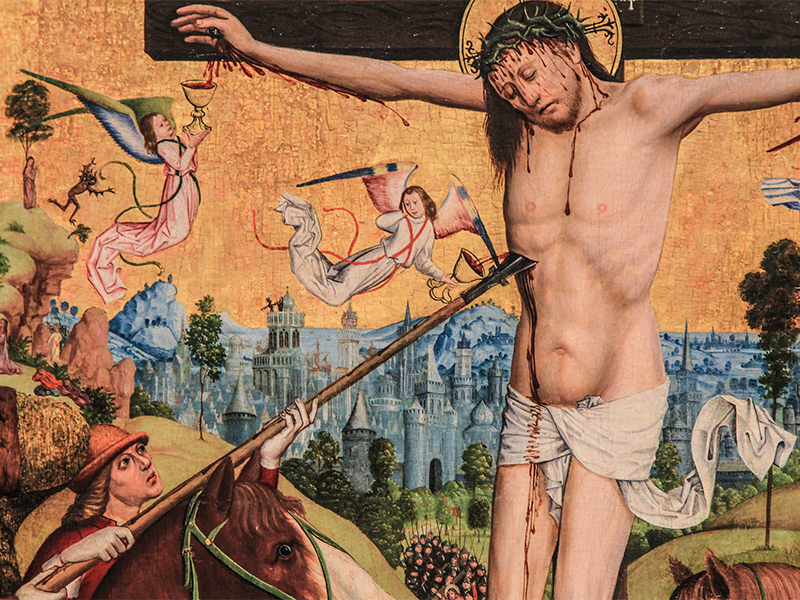 If you don't eat the flesh of the Son of Man and drink his blood you shan't have life in you.
This is disgusting language, of course it's disgusting. Not the language of religion but the language of the slaughter-house and the butcher's, for a start; sides of meat hanging on hooks and blood all over the floor – that's what this is about. Not churchy language at all.
St John is often explained as a writer who takes some basic thoughts about Jesus and turns them into poetry. Well, this isn't poetic at all, not at all!
Could I remind you, though, of something that was obvious 2,000 years ago but not so obvious now. When the Temple in Jerusalem was still standing, though not since, Jewish religion was a very flesh and blood affair. Sometimes animals were slaughtered and burnt, and sometimes just cooked and eaten as a holy meal. This was the heart of Jewish religion. Read all about it in the Old Testament. The last supper was this kind of holy meal, with roast lamb on the table. Everyone had some and tasted on their lips the goodness of God. It made them grateful for all His gifts to them. Gratitude is the stuff of worship: if there's nothing to thank God for, why bother at all?
"If you don't have my flesh and blood to eat and drink" doesn't mean "unless you're a cannibal", then. It means, rather, replacing one kind of worship with another kind. Take away the slaughter of the lambs. Take away the Temple and the animal sacrifices. Here is a human being who will lay down his life for his friends. Here are three hours on the Cross which Jesus experiences as worship. Here is a human suffering and not an animal.
You can see that this is an even more disgusting idea than you thought it was in the first place. Offering almighty God an animal is daft enough but why murder a perfectly decent human being. What kind of religion is that?
On the other hand, I do know some people who can understand this with the heart, if not with the head.  There are people for whom just to be alive is very terrible. There are people in a lot of pain. The only Christ who can reach them is one who can understand what they are going through.  The only God who can be God for them is a God who is on the Cross.
Our first reading talked about the Wisdom of God offering hospitality, inviting passers-by to come and eat,  just like the waiters do on the doorsteps of restaurants in some of those tourist places. And those who feel butchered by life have a certain wisdom.  They know that the God who suffered in Jesus, understands them. They know that in their Lord, a wise and loving God has come down to suffer with them. Jesus is still on the Cross, with them.
Today Jesus our Lord whom St Paul calls the Wisdom of God, stands here and says, come eat my bread and drink the wine that I have prepared, for all is now ready. At the last supper he talked about sacrifice, about giving your life for your friends.  He talked about suffering, about being killed on Good Friday. And he put the meaning of his suffering and death and sacrifice into the bread and into the wine, so that afterwards, his disciples would find it there.
Jesus said about the bread, this is my body.  Just what a Jew would say.  A modern English-speaker would have said, this is myself, this is me.  And, this is my blood, my life-blood.  The body will be broken and the blood will be spilt tomorrow, as in a slaughter-house, on Calvary.  Now over to you: eat bread and drink wine and take the meaning of what I have done for you. Do it to remember me – he does not mean simply, as though it were a token or shade of what I do for you, a wee memento just. Do it that you may have life in you, I in you and you in me. Until the Lord comes, every time you eat this bread and drink this cup, St Paul explains, you are proclaiming his death.
The Mass then is that kind of meal. All there is to see is the bread and the cup on the table, instead of the lamb. Nothing to kill: the killing stopped on Good Friday for on that day Jesus died out on death and was revealed to them on Easter as the crucified and risen one, who was made known to them in the breaking of the bread.
Everyone who believes can taste on their lips the goodness of Christ who loves and who suffers.  This is our thanksgiving to God made known in Jesus, who wills to live and to suffer in each of us.
Readings: Proverbs 9:1-6  |  Eph 5:15-20  |  John 6:51-58
Photograph by Fr Lawrence Lew OP of a painting from c.1470-80 in the National Gallery of Art, Washington DC.