How to pray the Rosary
A. How to Begin the Rosary
i. The Dominican Opening Prayers
There are two standard ways of beginning the Rosary. The first is that used by the Dominican Order. This way is generally quicker, and it is the same way that the Divine Office begins. The Rosary was at one time commonly chanted in choir – and that is why even now, when it is said in a group, the prayers are divided with one section praying the first part, and the other completing it, chorus contra chorum. The symbols for versicle (℣) and response (℟) are used to indicate this.
ii.Alternative Opening Prayers
The second way of beginning the Rosary is more commonly used.
First, making the Sign of the Cross, say:

Then, on the crucifix, pray the Apostles' Creed: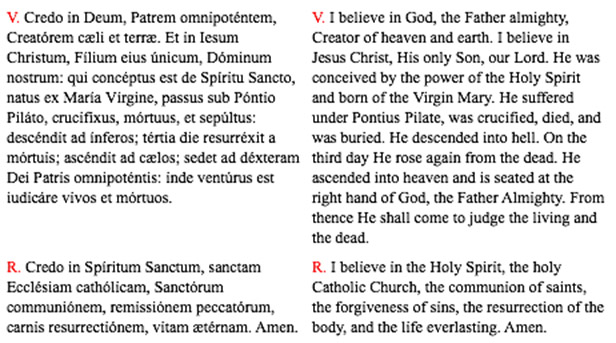 On the large bead, pray one Our Father:
On the three smaller beads, pray the Hail Mary once on each bead (usually for the virtues of faith, hope and charity):
Then pray the Glory Be once:
B. How to Pray the Decades of the Rosary
This is the heart of the Rosary. There are fifteen decades altogether, but in normal recitation, five decades are usually prayed together, and these five form a set of mysteries: either Joyful, or Sorrowful, or Glorious. While the set of mysteries are recited, we contemplate the mystery itself for each decade. Tracts from the Bible and the Catechism are offered as points of contemplation. Thus, while the vocal prayers below are recited, we mentally contemplate the mysteries of Christ's life, as Scripture says, 'The mouth of the just shall meditate wisdom' (Psalm 36.30).
After the introductory prayers, announce the set of mysteries to be prayed (e.g. 'The Joyful Mysteries of the Most Holy Rosary', etc).
Then for each decade, the following pattern is repeated. Announce the particular decade (e.g. 'The first joyful mystery – the Annunciation of the Lord').
Then pray one Our Father on the larger bead:
On the smaller beads, pray the Hail Mary a total of ten times, one on each bead:
To conclude the decade, pray the Glory Be once:
During the Sacred Triduum, the Glory Be is replaced by the following:
On Maundy Thursday
After the Glory Be, the following prayer, requested by Our Lady at Fátima, may be added:
C. How to Conclude the Rosary
To conclude, after five decades are finished, pray the Salve Regina or the Litany of Loreto (see p. ). Then the final collect follows.