Third Sunday of Lent: Don't be an Orc; let God's love make you great
There's an all-too-common line of thought that says, 'I'm not a bad person; I try not do others any harm' as if that's the extent of the moral life. I overheard it in a conversation only the other day. There are two things that bother me when I hear this and they're really two sides of the same coin. The first is that the person has too high self-regard and the second is that they have too little self-concern. This attitude relies on the common misconception that sin is primarily about doing other people harm.
In fact, it is quite possible to sin grievously with nobody else in sight or sound. So, whilst my sins sometimes harm others, they always harm me and they harm my relationship with God. When we sin we sell ourselves short and we damage ourselves. We're made for love: for love of God and for love of neighbour. When we love things over people or put our will before God's in some other way, we become distorted.
This distorting aspect of sin is particularly on my mind as we do the Stations of the Cross each Friday in our Church during Lent. Our Stations are unusual to say the least – there is a popular and credible school of thought that thinks they were JRR Tolkien's inspiration for the Orcs – you have the Romans depicted as grotesque, deformed figures, and Dominicans taking Jesus down from the Cross and laying him in the tomb: not at all partisan, then!
It's how the sin of the Romans disfigures them that I find so striking. As we contemplate the various stations, aided by St Alphonsus Liguori's moving mediations, I am struck that what my sin does to my soul, fr Aelred Whitacre OP depicts skilfully through his bodily disfigurement of the Romans by virtue of their sin against Christ.
Contemplating the Stations we're reminded of the ugliness of sin and the danger. One of the Gospel readings earlier this week was that of Lazarus and Dives. Dives begs Father Abraham to send Lazarus to warn his brothers, lest they make the same mistake as him: ignoring the poor; putting money so far before people that they become blinded to the need of others. Abraham refuses, telling Dives that his brothers have Moses and the Prophets to listen to, and that if they ignore them a messenger from the dead will not achieve any more.
We have even fewer excuses. In today's Gospel, Jesus issues a stark warning. To those who would say, 'I'm not such a bad person, there are plenty worse than me', Jesus cautions us, '… But unless you repent, you too will all perish' (Luke 13:3). Just as Job's being beleaguered by misfortune was no proof of his iniquity, so our being free from such devastations is no proof of our sanctity.
It seems sometimes that it's not so much our sins that perturb Jesus, but our ignorance of the fact that we're sinning, our willingness to look at others and say, 'God, I thank you that I am not like other people—robbers, evildoers, adulterers—or even like this tax collector' (Luke 18:11). In fact it's the recognition of our sin that is the beginning of our becoming saints. And it's sainthood that we all need to be aiming at. In the realm of salvation, it's not like being in the water with a shark, where as they say 'you don't need to be a quicker swimmer than the shark; you just need to be quicker than the person in the water next to you'! We will not be saved by just being better than others and knowing it. We will be saved because we know we are sinners, and we know we are weak and therefore we throw ourselves upon the mercy of Christ.
To know that I'm a sinner is most definitely not to say that I am far from Christ. Sin is what brought Christ to us. This is why the first line of the section in the Catechism on sin says: 'The Gospel is the revelation in Jesus Christ of God's mercy to sinners' (CCC 1846). It's why the same Pope Francis – who when asked, 'Who is Jorge Mario Bergoglio?' replied 'I am a sinner. This is the most accurate definition. It is not a figure of speech, a literary genre. I am a sinner' – should be the one to call a Jubilee of Mercy. It's not that I am sinner that ultimately defines me; it's what I do in the face of God's mercy. Because ultimately Jesus came not to console me in my sin, but to free me from my sins. Will I let him free me?
There's a seeming paradox at work here. We are supposed to trust in God's mercy, but we must not presume upon it. This makes me think about the rather fine new clock tower at Harris Manchester College, which has, for a graduate college, a rather apt quotation from Dorothy Sayers on it: 'It's later than you think, but it's never too late'. The only problem with this charming quotation is that there will come a point when it is too late. Pinkie Brown in Brighton Rock was all too aware of this. He knew his gangster-like existence was wrong, gravely wrong, but he had an almost saintly trust in God's forgiveness, which he badly abused; his concern was that at the moment of his death he might not have time to make an act of contrition. We, too, should be fearful of having presumed upon God's mercy, but not having availed ourselves of it.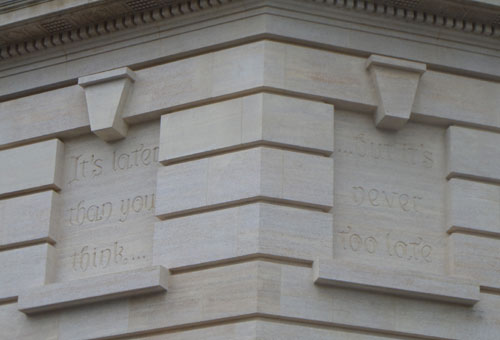 Now is the time to seek God's mercy. The Church gives us Lent; it gives us Confession; it gives us the Jubilee Year of Mercy. What more could we be waiting for? Like the fig tree, Jesus describes in today's gospel, we have been given a reprieve to which we had no right; we have a chance to bear great fruit. Will we trust in God's love for us and let him transform us? Will we love ourselves enough to let God make us what we were meant to be?
Going back to that common line of thought I opened with: on reflecting on what Christ has done for us, we might actually say that the person who is content with not being a bad person, not only has too little self-concern, but also too little self-regard. If only we would cherish ourselves as much as God does. God is calling us to something so much greater than being 'not bad'. We're called through Christ to life in Him. This is astonishing, if Jesus hadn't told us, it would sound almost blasphemous to claim it.
In today's first reading, Moses, beside the Burning Bush, was granted the great privilege of knowing God's name; we have been granted so much more. To settle for 'not bad' is dangerous and a travesty. You were not made for comfort; you were not made for 'good enough': 'Man was created for greatness—for God Himself'(Pope Benedict XVI, Spe Salvi, 33).