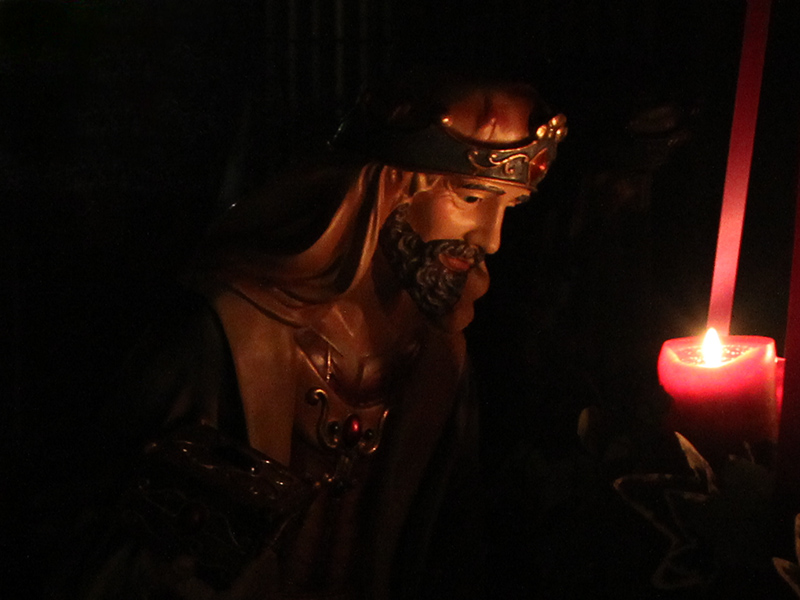 Lighting Candles in the Dark
First Sunday of Advent (A)  |  Fr Lawrence Lew looks at the Advent candle as a reminder of our baptismal vocation to walk in the light of Christ.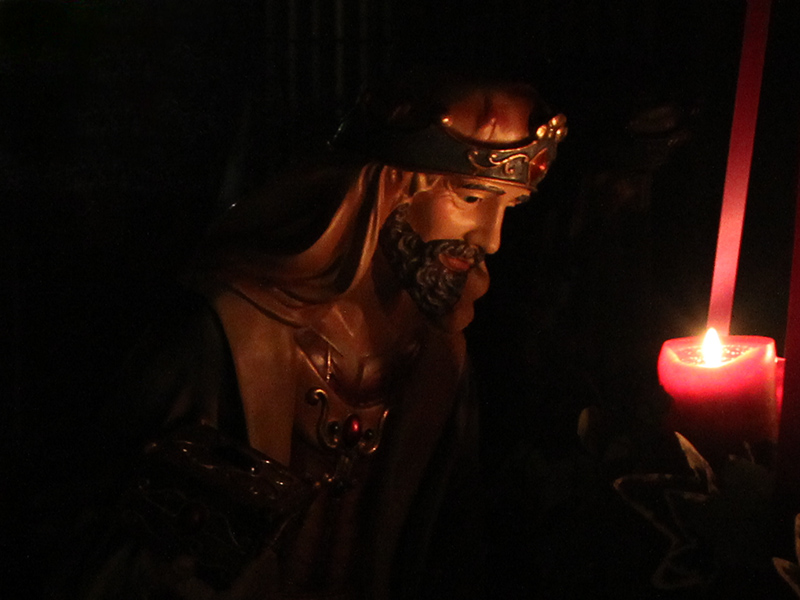 Turn off the electric lights, as today you light the first candle on the Advent wreath. See how that single flame dispels the darkness. Its very being proclaims: "the night is almost over". Every human person is born in the night, born in the darkness of original sin, born into a world that is evidently – and perhaps ever more so in this past year – under the sway of the Enemy. But each of us, at the moment of our baptism, had become like a flame ignited by the Holy Spirit. Indeed, a candle was lit from the Paschal candle, and that light is entrusted to us to be "kept burning brightly" so that we might "walk always as a child of the light" – it is the light of Christ whose life we, the baptised, now share.
So each of us, like that one Advent candle, is inflamed by the Spirit to proclaim: "it will be daylight soon". Each of us, through the lives we live and the moral choices we make, is to prepare the world for the coming of the Lord; how we act contributes to the fulfillment of Isaiah's vision of peace and fidelity to the Lord. And as the fire consumes the candle, so charity has been ignited in our hearts to consume each of us, making of our lives an oblation; we are each given the grace to become, in Christ's likeness, a sacrifice of love offered to God. This is what we're each called to as Christians and the lighting of those Advent candles, one by one, remind us: "come, let us walk in the light of the Lord". For we are not lone flames but we are also called altogether as children of the light to scatter the darkness of the night – the darkness of sin in our families, our homes, our communities, our society and country – and so to proclaim: "salvation is nearer to us now than when we first believed".
But each flame, if it is to burn brightly and dispel the darkness, has to consume the candle wax. So each of us if we're to shine with love has to make a sacrifice; only by Christ-like love transforming our own lives can we then transform the world. So earlier in his letter to the Romans St Paul says: "I appeal to you therefore, brethren, by the mercies of God, to present your bodies as a living sacrifice, holy and acceptable to God… Do not be conformed to this world but be transformed by the renewal of your mind" (Rom 12:1-2). The sacrifice, therefore, that every Christian has to make is, firstly, a sacrifice of his own way of being, with all his familiar sinful desires of the body, and also of our acquired ways of thinking. So we must first renew our minds so that we think, not as the world does, but as Christ does. Let the new liturgical year, this season of Advent, be a time for such renewal. Then, the reformed intellect can, if strengthened by God's grace, rule our passions, that is to say, allow reason to prudently discipline our often excessive desires for bodily pleasures, self-gratification, and aggrandisement. And this is possible only if we know and love God and seek to do his will above all other pleasures and distractions; the flame of charity has to consume the wax of our sinful selves if we're to shine with Christ's light.
The Advent season is often full of parties and celebrations which risk becoming occasions for sinful indulgence. Let it not be so for us but, through the necessary sacrifice that comes from moderation and avoiding sin, let us shine and be seen by others to be children of the light  rather than children of the darkness. Through we were born in the night, "salvation is nearer now" for you and for me, for Christ's light has been entrusted to us.
Hence every day brings new opportunities to train ourselves in virtue so that we hate what we once desired and love what God loves; to love what he teaches us and desires of us. But if we are somnolent, sleep-walking through life, with our wills and intellects drowsily acquiescent to the norms and expectations of our culture and surroundings, then the light we shed will be minimal and might even be extinguished. Hence the apostle says: "it is full time now for you to wake from sleep". Now! Now is the time to wake up, and stand ready and prepared, with our candles lit; with love for Christ burning in our hearts. For, as we were told at our baptisms, "when the Lord comes, [so] may [we] go out to meet him with all the saints in the heavenly kingdom". So, turn off all the world's artificial lights that twinkle and charm us, and ignite again the candle lit from the true Light this Advent. "Come, let us walk in the light of the Lord".
See below for news about our recent appeal
Isa 2:1-5  |  Rom 13:11-14  |  Matt 24:37-44
Photograph by Fr Lawrence Lew OP of the Advent tableau in the Chapel of St Albert the Great, Edinburgh.
Torch Appeal Results
We launched our recent fundraising appeal for Torch on the feast of St Martin de Porres, entrusting the appeal to his intercession. We are grateful for his prayers, and give a big thank-you to all those who kindly donated in response to this appeal. Your donation helps us to offset the annual costs of running this website.

We received:
£ 1311 in donations, from 31 donors

A further £ 285 per year in new regular monthly giving, from 3 donors
(Amounts include Gift Aid)
If you have not yet made a donation and would like to do so, please click here.
Thank you and God bless.