Corpus Christi
Readings: Deuteronomy 8:2-3; Psalm 147; 1 Corinthians 10: 16-17; John 6: 51-58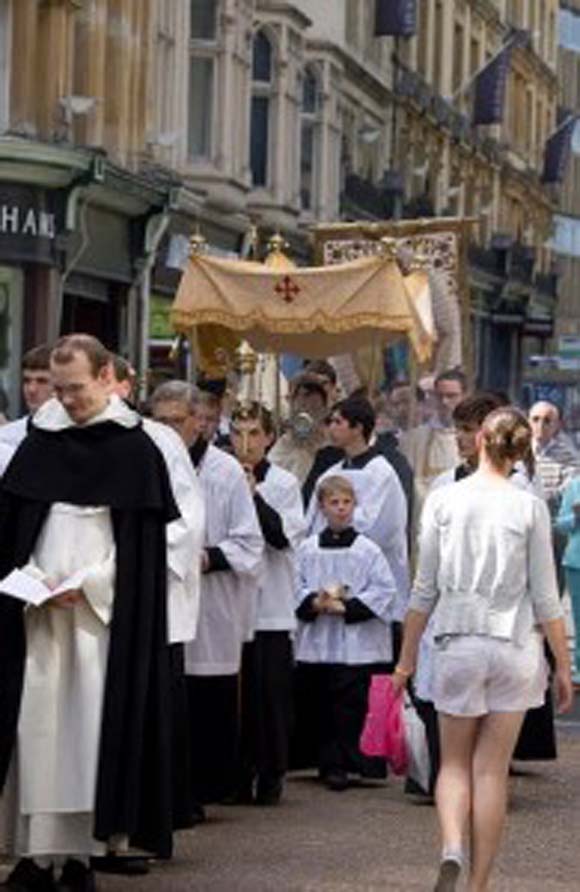 Economic doom and gloom has filled the media with stories of protests and demonstrations in recent weeks. This is the bread and butter of politics. When resources become scarce we band together and fight for our own interests. In different ways, the ideologies of left and right are based on conflict and competition. We fight to preserve our way of life. One of the ways in which we do this is by taking to the streets.
One could interpret the traditional Corpus Christi processions in this manner: as a show of strength from a Church intent on preserving its power and prestige in the world. This, I think, is to misunderstand the sacrament and today's solemnity. The Eucharist is the sacrament of Christ's sacrifice on the cross. It is the sacrament of Christ's atonement, or 'at-one-ment', through which we become one with God and one with each other. Where secular political ideologies are about groups and individuals preserving their own interests, protecting their own lives in opposition to competitors and rivals, the Eucharist is about reconciliation. The Eucharist is about communion, or common union. Instead of fighting to save his life, Christ
gave
his life as a gift for others. In the Eucharist we accept this gift of Christ's life and identify ourselves with his sacrifice.
With this
background in mind, the symbolism of a Corpus Christi procession becomes all the more powerful. When we leave the privacy and safety of the four walls of our church and the comfortable arrangements that we have grown familiar with, when we follow the Blessed Sacrament through the streets of cities like Oxford, we make a statement about the Christian life. Our faith is not a private affair, separate and distinct from how we live in 'the real world'. The whole of our lives ought to be Eucharistic, this means offering our lives as a sacrifice for others that builds communion, that leads to reconciliation.
This reconciliation can only happen if we, and the society around us, like the people of Israel in our first reading, recognize that man 'does not live on bread alone' (Deuteronomy 8:3). As a society we are condemned to never ending strife and struggle for our 'daily bread', which although necessary offers a temporary satisfaction and a temporary life, unless we see these material goods against the horizon of the Body and Blood of Christ. This is the 'living bread', the food and drink that gives eternal life. Only God can satisfy all our desires, and God offers himself to us as a gift in the Eucharist that we celebrate today. It is a gift that puts all material goods into perspective, and it is a gift that we must share with our neighbours.