Film Review: The Social Network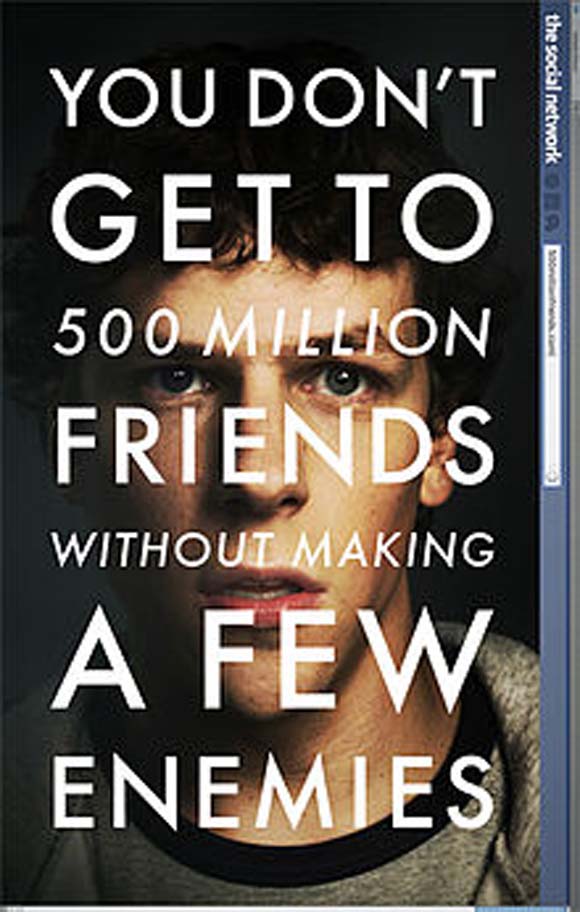 Facebook
is certainly one of the main social and cultural markers of the early twenty-first century. It is therefore no surprise that its creation and turbulent early expansion have been adapted for the big screen. Penned by Aaron Sorkin, of
West Wing
and
A Few Good Men
fame, the film charts Harvard Student Mark Zuckerberg's creation of Facebook and the backdraft of hedonism, litigation and broken friendship that followed, in a medley of fast-paced  and memorable dialogue.
After a painful break-up Mark Zuckerberg, our computer-science major protagonist, drunkenly decides to create a website to rate the attractiveness of female Harvard undergraduates. After a heavy hacking session Facemash is created and within days part of the Harvard network collapses due to the web-traffic. This stunt brings the wrath of the university authorities but also attracts the attention of the members of the elite final club members, the Winklevoss twins. They commission the young computer science  major to programme HarvardMatch, an Ivy League dating site. This inspires Zuckerberg to create TheFacebook. The rest of course is history.
The film has been described as "inaccurate" by most of the people portrayed but nevertheless it is a fascinating movie that paints an intriguing picture of Harvard life and the rigid social-system that exists within it. What is rather striking is the emphasis on these social networks that exist as hierarchical and empty communities. Jesse Eisenberg's Zuckenberg is obsessed with being part of, on top of, and controlling the  shell of this society. If anything, the empty friendship of Facebook demonstrates Aristotle's observation that "it is not possible for anyone to have many real friends". It really spotlights one of the major problems in western society: the death of the traditional community.
The Pope during his visit to Spain described the Church as "the embrace of God". He went on to describe the Church as a true social network, "in which men and women learn also to embrace their brothers and sisters and to discover in them the divine image and likeness which constitutes the deepest truth of their existence, and which is the origin of genuine freedom". This social network found within the Church is a truly living and real society.
The Social Network
is a thoroughly entertaining and stimulating film. It really captures the Harvard scene and the exciting but turbulent, cut-throat nature of the internet world. It also asks some very pertinent questions, such as: is popularity the key to happiness? And what does it mean to be friends?. It seems almost poetic that many of the problems emphasised by the rise of
Facebook
, are observed in its creation and early growth. One is forced to ask how far does the virtual world devalue the real world.
PS APPROPRIATELY ENOUGH, THIS REVIEW OF THE SOCIAL NETWORK IS THE 1000th POST TO BE PUBLISHED ON GODZDOGZ. HIP, HIP! HOORAY!